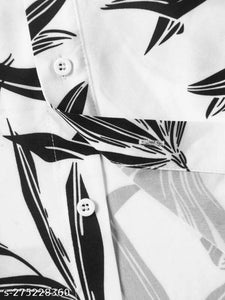 Shirt Types
There are numerous types of shirts available, each with its unique style, design, and purpose. Here are some popular types of shirts:
T-Shirt: A casual and versatile shirt with short sleeves, typically made of cotton. T-shirts are available in various colors, designs, and patterns, often featuring graphics, logos, or slogans.

Polo Shirt: Also known as a golf shirt or tennis shirt, a polo shirt is characterized by its collar and short sleeves. It is usually made of knitted cotton or a blend of cotton and synthetic fibers, giving it a slightly more formal appearance than a T-shirt.

Button-Down Shirt: A classic shirt featuring a collar and a full-length button-front closure. Button-down shirts are available in different fabrics, including cotton, linen, and chambray, and they come in various styles like dress shirts, oxford shirts, and flannel shirts.

Dress Shirt: A formal shirt typically worn with suits or dress pants. Dress shirts are usually made of high-quality cotton or cotton blends and have a stiff collar and cuffs. They often come in solid colors or subtle patterns and can be long-sleeved or short-sleeved.

Henley Shirt: Similar to a T-shirt but with a round neckline and a partial button-front closure. Henley shirts are often made of lightweight fabrics like cotton or linen and can be long-sleeved or short-sleeved.

Hawaiian Shirt: Known for their colorful and vibrant prints, Hawaiian shirts (also called aloha shirts) are typically made of lightweight fabrics like cotton or rayon. They feature bold floral or tropical patterns and are associated with a casual, beach-inspired style.

Flannel Shirt: A warm and comfortable shirt made of flannel fabric, which is a soft and woven material. Flannel shirts are often characterized by their plaid patterns and are popular for casual and outdoor activities.

Sweatshirt: A casual and comfortable shirt made of thick, warm, and usually soft fabric. Sweatshirts are designed for warmth and often feature long sleeves, a crew neckline, and ribbed cuffs and waistbands.

Tank Top: A sleeveless shirt with a scoop or V-neckline, typically worn in warm weather or for athletic activities. Tank tops can be made of cotton, polyester, or other lightweight materials.

Baseball Shirt: Also known as a raglan shirt, it features three-quarter-length sleeves that extend in one piece to the collar. Baseball shirts often have contrasting color sleeves and a solid body, and they are commonly associated with a sporty or retro style.
These are just a few examples, and the world of shirts is diverse and ever-evolving, offering countless variations in terms of style, fabric, and design.
---